Embroidered Black Saree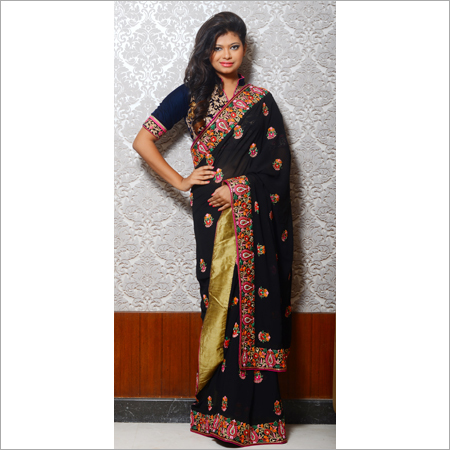 Embroidered Black Saree
Product Description
Epitomizing Indian women beauty and elegance, our offered Embroidered Black Saree is an excellent piece of drape for every ethnic wardrobe. The design of the saree is unique and embellished with different patterns and unique embroidered work. It creates a classy look to the whole saree and it can be worn in various occasions.
The Black Embroidered Saree range is produced with quality fabric and strings by our significantly skilled organizers. For ensuring about the quality, our quality genius investigates this weaved Saree against distinctive parameters. As demonstrated by the sales begin from our customers, we show the complete accumulation of fashioner saree in unmistakable sizes, tints and cases. The offered ordinary sarees are made by latest configuration designs winning in the business part. Our complete extent of routine sarees is skin-friendly and reliable in nature. These standard sarees are made using exceedingly push headways close by the top class fabric according to the set business area portrayed guidelines. Close by that, we are giving the entire extent at most moderate cost.
Features:
These are all designed with traditional embroidered with a touch of contemporary style.
The saree is stylish and can be worn in several occasion including evening parties, formal parties and others.
This is an extremely comfortable drape and can be fitted well.
The saree is light weight and extremely gentle in appearance.