Indo Western Navy Blue Silk Kurta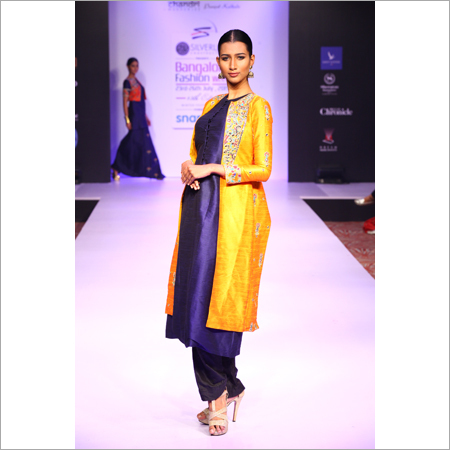 Indo Western Navy Blue Silk Kurta
Product Description
Indeed, even the most bad-to-the-bone advocates of western wear have a few kurtis buried for those formal or celebratory occasions. Kurtis have assumed control over the design scene wonderfully, dissimilar to whatever other clothing. It is free streaming and can be worn throughout the day. We offer exquisitely designed Indo Western Navy Blue Silk Kurta that Ladies of all ages lean toward wearing as these are advantageous and have simplicity about them. The fame of navy blue silk kurta has spread so far and wide that workplaces too have acknowledged ladies' kurtis as a piece of their formal attire. We convey to you a scope of silk kurtis for ladies that you want to have in your cabinet. Kurtis are generally shorter long than kurtas. They are worn with pants, leggings, stockings, dhoti pants and even night robe. They look chic and come in distinctive styles. You can discover kurtis with 3/fourth sleeves and round neck lines. You could likewise go for sleeveless kurtis for the late spring months. These kurtis are typically enhanced with prints in spite of the fact that there are a significant number of restrictive ones that have weaving done along the hemline.
Features:

Exclusive designs are crafted along the hemline.
These are available in variety of sizes and shapes and can be customized according to customer's will.
The collection of navy blue kurti is available in motley of colors and designs.
These can be worn in various occasion as well as workplaces.